On Saturday afternoon, news broke that 2GB shock jock, Alan Jones, had been recorded saying that the Prime Minister's late father, John Gillard, died of the shame he felt at having her for a daughter.
This is, of course, a gross distortion of the truth.  Whatever we, as voters, might think of Ms Gillard, it is clear that her father was always incredibly proud of her. It is a matter of public record that his death, as a very elderly man, came after a long illness.
Jones' ghastly, insensitive remark pays no heed to the incredible hurt his words might cause to Ms Gillard, nor to her elderly mother. Having lost my own father, I can only imagine how I would have felt if, during those early days when I was still raw with emotion and grief, someone had sneered that my father did not die of a sudden heart-attack, but because he was ashamed – of me. That his death was my fault.
And, as I try to imagine how that insensitivity would have compounded my own grief, I can only believe it might have come close to killing my mother;  already distraught to the point of collapse at the loss of her husband.
What kind of a monster would say such a thing?
To their very great credit, the majority of Australians have responded  to Jones' remark with complete and utter disgust. Already there are calls for a boycott of Jones' employer, 2GB and its sponsors and a petition calling for his dismissal.
But, some are aguing that Jones' attack on Ms Gillard was acceptable given her policies/lies/treatment of Julian Assange/hard line on asylum seekers etc.  For some, there is a sense that Gillard's own failings have made her 'fair game'.
And, to some extent she is 'fair game'. As Prime Minister, Ms Gillard should certainly not be protected from fierce opposition to her policies. And, of course, she should held to account for the honesty of her statements, promises made and broken and the hypocrisy of her position on same-sex marriage. Let me make it clear. I am not defending Ms Gillard because I like her – far from it! I am defending her because she is a human being.
Whatever Ms Gillard's past actions, whatever her sins against the Australian people – it is NEVER acceptable to desecrate the memory of a recently deceased father in order to  hurt, ridicule, damage or demean his daughter. NEVER. JUST. NEVER.
Never an edifying voice in the political debate, Alan Jones has brought civility in this country to its knees. This is beyond gutter politics. This is sewerage politics.  Splashing around in his cesspool of censorious cynicism, Jones besmirches us all with his putrescent propaganda.
I am no fan of Julia Gillard's. In fact, I have publicly criticized her online, in the national press and on air. But, in this scenario, Gillard is not a politician; she is a grieving daughter.
No daughter – regardless of who she is, or what she has done – should have to endure the indignity of her dead father being used as a weapon against her. And no Australian should condone that kind of vicious, personal abuse – regardless of their personal feelings about Ms Gillard or her politics.
Listening to the audio of Jones' speech, I was shocked to hear guests at the Sydney University Liberal Club laugh in response to his  vile attack on the Prime Minister. On reflection, I realised I should not have been surprised. This is the kind of misogynistic, pugilistic, bully-boy bastardry that has become normalised within the Liberal party under Tony Abbott's leadership. When this is the kind of behaviour consistently modeled by the leadership,  it is easy to understand why  Jones' egregious remarks brought only the following response from his young Liberal hosts: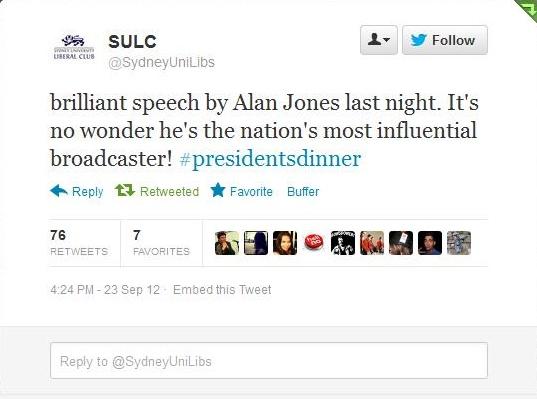 Mr Abbott and his Catholic cronies have been very concerned of late that legalizing same-sex marriage will 'normalize' homosexual behaviour. I think Australians should be a great deal more concerned that the behaviour of Tony Abbott and his cabinet henchmen creates a toxic political culture in which remarks like Jones' are considered so normal – so firmly within the acceptable bounds of human decency – that they warrant laughter and post-speech accolades.
Let me reiterate. There is nothing Julia Gillard has done, or could do,  that could justify Jones' behaviour. There is no sin Ms Gillard may have committed, no lie she may have told that would mitigate the sheer, malevolent bastardry of using a dead man as a weapon against his grieving daughter. None.
And now, to those who will inevitably scream that the firestorm of criticism Jones will wake up to today somehow endangers his right to free speech.
As much as it disgusts me, Alan Jones has an absolute right to say what he did. No question. No matter how hurtful, how spiteful, how crude or revolting – Jones' right to be a complete and utter moron should be sacrosanct.
But, Jones' right to free speech does not make it encumbent upon radio 2GB to pay him vast sums of money and provide him with a forum for his venomous, misogynistic vilification of the Prime Minister. Further, the companies which support Jones and his station  with their sponsorship, have no moral, ethical or legal obligation to place advertisements with 2GB. These are commercial arrangements which have nothing, whatsoever, to do with Jones' freedom of speech.
Nor does free speech come with any right to be absolved from public censure. While Jones has the right to speak his mind, the public is perfectly justified in shouting him down in disgust.
If 2GB were to sack Jones, it would, in no way, compromise his right to free speech. Having your own radio show is not a 'right' it is a privilege – and Jones has abused that privilege more than once. Indeed, as recently as October Jones admitted to The Age that in saying the Prime Minister should be put in a chaff bag and thrown out to sea, he had failed to respect 'the office' of the Prime Minister and  'to meet the standards that would be expected of people who listen to the program.'
That apology can now be seen for what it is. Spin. Jones learned nothing from the incident and his remarks about Ms Gillard's father show what little respect he has for either the office of the Prime Minister or the common decency of the Australian people.
The fact that this latest assault on the Prime Minister was not made on air, but at a Liberal party event, is no excuse for Jones' employer to show  leniency. The attack on Gillard speaks to his character, his judgement and his honesty. On all three counts, he is not a fit person to enjoy the privilege and power accorded to him in his role with 2GB.
I am no fan of  being 'nice' or polite in the face of liars, cheats or frauds. I completely accept that some people believe that Julia Gillard is all three. But even if this is true, we are greatly diminished as Australians and as human beings if we condone Jones' particular brand of bastardry.
Is this what we should aspire to as Australians; to rationalise despicable behaviour because someone else has acted disreputably? To paraphrase my friend Vicki O'Brien, "What? Are we fucking five?"
Is this how Australians will be acculturated under an Abbott-led government? Will we become a nation in which 'an eye for an eye' is the ethics du jour?  Do we aspire to become a nation in which 'strength' is defined as making yourself every bit as bad as those you oppose? Is this what we want to teach our children about what it means to be 'Australian'?
This is not what Australians stand for and I was heartened to see that the vast majority of Australians on Facebook and Twitter last night stood up for decency, civility and fair play – regardless of their personal views about Julia Gillard, her personal integrity or her policies.
Alan Jones must lose the power and privilege he has so frequently and wantonly abused. 2GB's sponsors must insist on his dismissal. And, more broadly, the Liberal party must take a critical view of the monster that Tony Abbott is creating.
How long before Abbott leads the party into a political storm the size of that swirling around Alan Jones today?  As the storm rages, Liberal powerbrokers should be out in the weather,  licking their fingers and testing the winds of public opinion because this  is the kind of tempest which forbodes unloseable elections lost and defeat, snatched from the jaws of victory.
Chrys Stevenson
Sign the petition asking 2GB to dismiss Alan Jones
Tell Alan Jones' sponsors what you think of them financially supporting his program.
sales@icoolm.com.au, admin@jjmetrowest.com.au, andre@hollywoodbathrooms.com.au, info@harrispartners.com.au, info@grace.com.au, enquiries@harringtonkitchens.com.au, sales@fixatap.com.au, info@waterfordretirementvillage.com.au, info@statecustodians.com.au, sales@renovationboys.com.au, info@parknfly.com.au, info@livenation.com.au, sales@lexusofparramatta.com.au, info@kennedyhealthcare.com.au
Breaking: Jones has apologised for his remarks, bizarrely intimating that he plagiarised the offending remark from someone else!
"Jones said he had repeated remarks made to him at his godson's birthday party earlier in the day.

'I should not have repeated those remarks,' he said.

"There is no excuse, I have to cop the blame."
But 'copping the blame' without accepting the consequences is just more spin. Jones must be dismissed or step down. This is not a case of one, unwise, 'out of character' statement. This is, according to NSW Labor MP, Dr Meredith Burgmann, entirely consistent with Jones' pathological pursuit of Gillard.
Prior to this, Jones has said of the PM, 'She's brain dead", 'a lying bitch",  'bring back the guillotine', 'I'm over this lying cow', and 'What a horrible mouth on legs she is'. This is not thoughtful political commentary. Jones has made a habit of making gendered and misogynistic attacks on the Prime Minister. It's not good enough. A mild apology is not good enough. And 'copping the blame' isn't good enough. He must accept real consequences for the real harm he has caused, not only to Ms Gillard and her family, but to the sensibilities of the Australian people.